The Global Moon Shot Page
Bridging five continents, this page represents much more than a collection of pictures of naked bottoms (mostly mine).

It nobly serves as digitized testimony to the power of the international language of moon shots.



Butt Bridge,
Dublin, Ireland
(July 2017)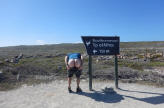 Cape Agulhas,
South Africa
(January 2017)

Cradle of Humankind,
Maropeng, S. Africa
(January, 2017)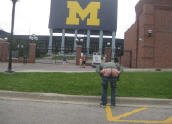 Michgan Stadium
Ann Arbor, Michigan
(August, 2015)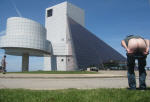 Rock and Roll Hall of Fame and Museum,
Cleveland, Ohio
(August, 2015)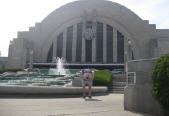 Museum Center,
Cincinnati, Ohio
(August, 2015)

Juggie's Place,
"The World's Smallest Bar"
Phillipsburg, St. Maarten
(December 2014)

Citi Field,
Flushing Meadows, NY
(July 2014)

Poof the Blue Iguana,
Camana Bay, Grand Cayman (June 2014)

Ardastra Gardens & Zoo,
Bahamas (March 2014)

Lava Tree State Park
Hawaii (June 2013)

Ka Lae, the southernmost
point in the USA's 50 states.
Hawaii (June 2013)
Diamond Head
Oahu, Hawaii (June 2013)

Halona Blowhole
Oahu (June 2013)

Wat Putta Mongkon Nimit,
Phuket, Thailand
(December 2012)

Monkey Beach,
Thailand
(December 2012)

Pee Pee Viewpoint
Tonsai Bay, Thailand
(December 2012)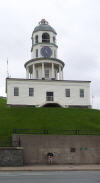 Citadel Clock Tower
Halifax, Nova Scotia
(August 2012)

Bar Harbor, Maine
(August 2012)

Madison, Wisconsin
Camp Randall Stadium
(July 2012)

Brisbane, Queensland
Australia
Mt. Coot-tha Lookout
(March 2011)

Adelaide, South Australia
Montefiore Hill
(March 2011)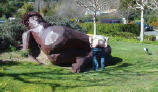 "Tamalpais Maiden" by Dennis Patton
Greenbrae, CA
(February 2011)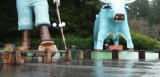 "Trees of Mystery"
Avenue of the Giants
Klamath, CA
(February 2011)

Anchorage, AK
Sears Mall
Kodiak Bear
(Sept 2009)

Raleigh, NC
Moore Square
NUT SHOT!
(June 2009)

Tampa, Florida
Columbia Restaraunt:
the oldest restaraunt
in Florida (est. 1905).
(May 2009)

Charm City Cakes
Baltimore, Maryland
Naughty cakes!
(April 2009)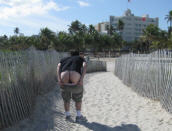 Hotel Victor
@ South Beach
Miami Beach, Florida
(Jan 2009)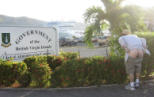 Tortola,
British Virgin Islands
(Jan 2009)

Government House,
Road Town
British Virgin Islands
(Jan 2009)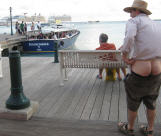 St. Maarten
(Jan 2009)

Castillo de San Cristobal,
San Juan, Puerto Rico
(Jan 2009)

Hooters,
Fort Lauderdale, FL
(Jan 2009)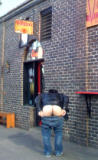 Voodoo Doughnut,
Portland, Oregon
"The Magic Is In The Hole"
(Nov 2008)

The Burke Brise Soleil, Milwaukee Art Museum,
Milwaukee, WI
(May 2008)

The Captain Frederick
Pabst Mansion,
Milwaukee, WI
(May 2008)

Cameron Indoor Stadium,
Duke University
Durham, NC
(May 2008)

Coors Field,
Denver
(November 2007)

Texas State Capitol,
Austin
(September 2007)

Algiers Ferry Landing,
New Orleans, Louisiana
(September 2006)

Bank of America Skating Center
Kennedy Plaza
Providence, Rhode Island
(August 2006)

Cathedral of St. Paul,
St. Paul, Minnesota
(May 2006)

Punta Cana,
Dominican Republic
(January 2006)

Château Frontenac
and Terrasse Dufferin,
Québec City, Québec, Canada
(August 2004)

Buffalo City Hall,
Niagara Plaza, Buffalo NY
(October 2003)

Leaning Tower, Pisa
(September 2003)

The Cathedral Duomo
(Brunelleschi), Florence
(September 2003)
The Coliseum, Rome
(September 2003)

St. Peter's, Rome
(September 2003)

Stonehenge, England
(July 2003)

Tel Aviv, Israel
On the beach,
near the Sheraton
(Apologies, bad shot)
(July 2003)

California Tower and
Museum of Man
Balboa Park
San Diego CA
(November 2002)

Marina City Towers, Chicago
(August 2002)

CN Tower, Toronto
(July 2002)

Venice Beach, CA
(April 2002)

bad timing at the
Harvard Lampoon Building
Cambridge, MA
(January 2002)

Las Vegas
(December 2001)
Grand Canyon
(December 2001)

Kenosha, Wisconsin
Route 94
Mars Cheese Castle
(August 2001)

Milwaukee, Wisconsin
Miller Brewery
(August 2001)

Montreal, Quebec
At 'The Big O'
(May 2001)

London, England
(January 2001)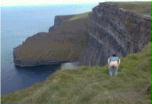 Cliffs of Moher, Ireland (July 2000)

Crag Cave -- Ireland's Most Exciting Showcave
(and runner-up)
(July 2000)

Voting with a 'hanging chad'
Washington D.C.
(March 2000)

Don't get caught in The Cyclone!
Coney Island, New York
(August 1999)

Wear lots of sunscreen when in Sedona, Arizona, at the Chapel of the Holy Cross
(August 1999)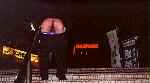 Life's a gas at the GASPANIC dance club, the Roppongi district, Tokyo Japan
(March 1999)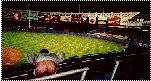 1998 was a banner year for Yankee Statdium
(August 1998)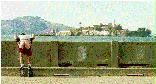 Don't drop the soap at Alcatraz!
(1998)

Poás Volcano, Costa Rica
(May 1998)

The World Trade Center, New York City
(August 1998)

'neath the shadow of the Matterhorn
(January 1998)

Barcelona, Spain, at Gaudi's unfinished Sagrada Familia cathedral
(1996)

Sydney, Australia, atop the observatory hill, o'erlooking the harbour
(November 1996)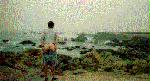 Monterey, California
(1993)

Hoover Dam
(1997)

Camden Yards, Baltimore
(1996)

Sao Paulo, Brazil
(October 1997)

Some fellow Stanford fans give Cal what it deserves at Memorial Stadium, Berkeley, California
(November 1994)

Colorado. My first attempt at a moon shot. High marks for creativity, low marks for execution.
(Summer 1991)
Photo credits all noted in document HTML source.
A spiritual sister site, Nutscapes.
Back to Spankaroo! (my less butt-fixated home page)
Comments? Praise? Scorn? Suggestions? Mail dhyatt@stanfordalumni.org